PE water supply pipe machine/gas pipe machine/oil pipe machine/heat preservation pipe production line
PE water supply pipe machine/gas pipe machine/oil pipe machine/heat preservation pipe production line
has excellent stiffness and flexibility,heat resistance,aging resistance,high medical strength,resistance of environmental stress crack,resistance to creep deformation,heat -linkage,and so on.So,it is preferred gas and water pipe for ductwork system between city and suburb,and plays an important role in the city gas and water supply.
This production line has beatiful apprearance,high automatic and stable.It is popular with many customers.And it is the best choiceto replaceimported production line.Adopt new technology electromagnetic induction controller to control the electromagnetic heating ring,the electricityuse ratio exceeds 98%,can save 50% electric energy.
PE water supply pipe machine/gas pipe machine/oil pipe machine/heat preservation pipe production line
is mainly used in the area of agricultural water supply and drainage system,architectural water supply and drainage system,pavement of cable,etc. This line group consists of vacuum calibration tank,haul off unit,cutting unit,stacker.Single screw extruder and haul off unit includes two-claw type,three-claw type,four-claw type,two-claw type,six-claw type,eight-claw type,ten-claw type,twelve-claw type.No-scraps cutting,saw cutting or planetary cutting can be applied,the property of machine group is reliable,production effeciency is high.The planetary cutting machine is fully automatic computer control.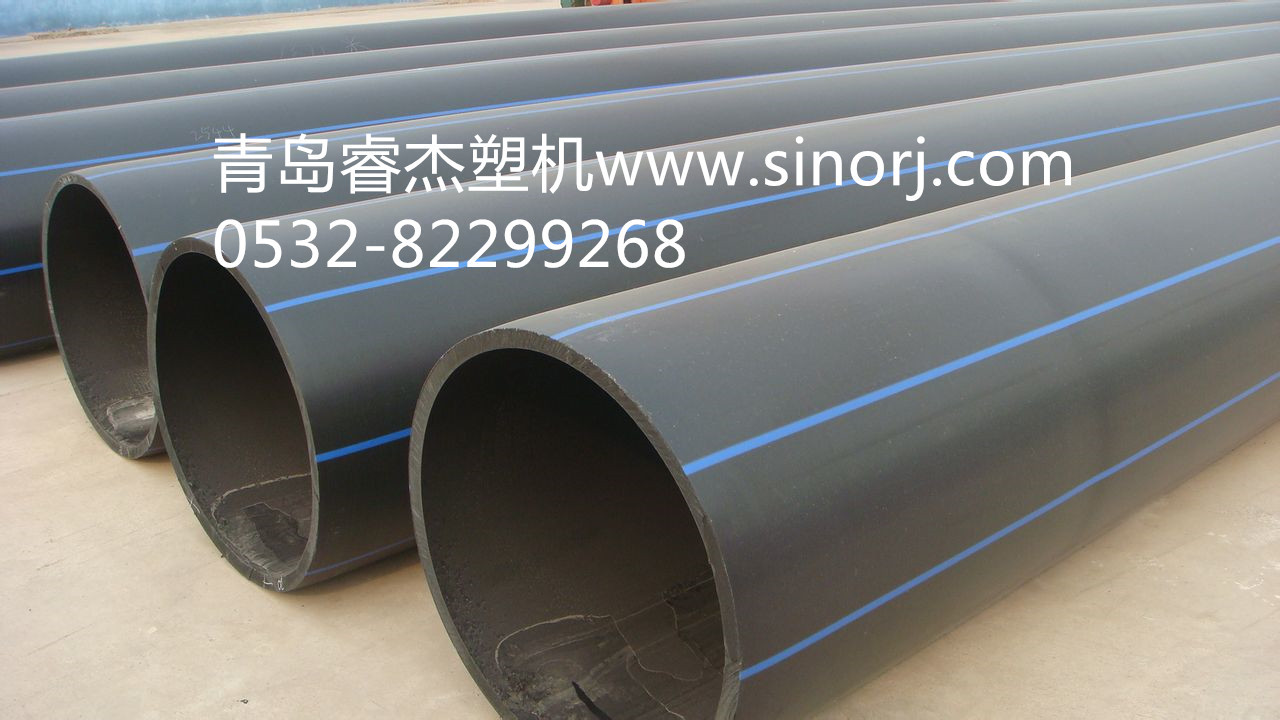 Main technical standards
| | | | | | |
| --- | --- | --- | --- | --- | --- |
| Mode | Pipe range(mm) | Extruders | Max output(kg/h) | Total power(KW) | Line length(m) |
| RJ-63 | 16-63 | S65/30 sj25/25 | 100 | 75 | 30 |
| RJ-110 | 50-110 | S90/30 sj25/25 | 180 | 130 | 30 |
| RJ-160 | 63-160 | S90/30 sj25/25 | 200 | 150 | 30 |
| RJ-250 | 110-250 | S90/33 sj25/25 | 320 | 185 | 37 |
| RJ-315 | 160-315 | S100/30 sj30/25 | 350 | 220 | 43 |
| RJ-450 | 250-450 | S120/30 sj30/25 | 500 | 300 | 50 |
| RJ-630 | 315-630 | S150/30 sj40/25 | 600 | 330 | 50 |
| RJ-800 | 400-800 | S150/33 sj40/25 | 800 | 400 | 56 |
| RJ-1200 | 600-1200 | S150/33 sj40/25 | 1000 | 550 | 56 |